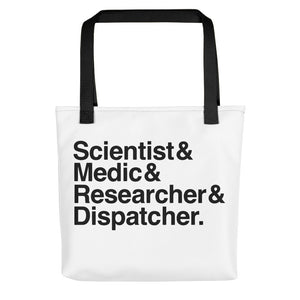 Scientist & Medic& Researcher& Dispatcher.
This is the geekiest tote bag out there. So meta!
1. Honour front-line workers during the current Covid-19 pandemic by calling out some of the crucial professions.
2. Show fellow gamers how in the know you are by referencing these 4 iconic roles (Scientist, Medic, Researcher, Dispatcher) from Matt Leacock's classic cooperative board game Pandemic (published by Z-Man Games).
3. Be hipster by referencing the iconic John& Paul& Ringo& George. Helvetica design by Dutch agency Experimental Jetset. Fun fact: They designed the well-known shirt in 2001 for a Japanese shirt label.
A spacious and trendy tote bag to help you carry around everything that matters.

• 100% spun polyester fabric
• Bag size: 15″ × 15″ (38.1 × 38.1 cm)
• Capacity: 2.6 US gal (10 l)
• Maximum weight limit: 44lbs (20 kg)
• Dual handles made from 100% natural cotton bull denim
• Handle length 11.8″ (30 cm), width 1″ (2.5 cm)
• The handles can slightly differ depending on the fulfillment location
• Blank product components sourced from China
FREE SHIPPING to U.S. and CANADA.